I love style guides almost as much as I love disagreeing with them. That's why I'm excited to get my hands on Yahoo's new house style book, The Yahoo! Style Guide. The style guide is available in hard copy (starting July 6) but much of the content is available on Yahoo's style site at styleguide.yahoo.com.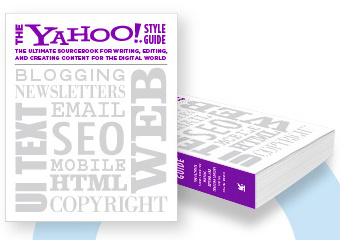 I'm glad to see Yahoo has axed a lot of hyphens: 3D, not 3-D; email, not e-mail; and website, not web-site (in which they agree with AP).
Oddly, Yahoo offers Ni-MH for nickel-metal hydride (as in the batteries). Typically chemical compounds are not expressed using hyphens (NiCad anybody?).
Lifehacker puts it nicely:
As with any style guide, nothing's written in stone—just because Yahoo or AP declares a style doesn't mean it's the only correct way (sorry Yahoo, but we're sticking with "internet" rather than "Internet")….
Based on my brief time there, the yahoo style site looks like a good resource. I'm looking forward to getting the book as well.